Sweet Potato Toast with Avocado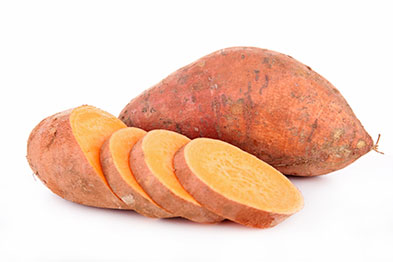 Sweet potatoes are loaded with Vitamin A, fiber, and antioxidants, but who knew you could toast them in your toaster? Well, you can. We tried it, and it works amazingly well. Simply slice a sweet potato, lengthwise, into 1/4″ slices, pop in the toaster, and you're good to go. You'll need to run them thru the toast cycle two or three times to fully cook them and add that toasty crunch. For a great take on this idea…try this!
Ingredients:
1 large sweet potato
1 avocado
Salt to taste
Lemon pepper seasoning (in the spice aisle) or fresh lemon juice and pepper
Cut the ends off the sweet potato, slice it lengthwise ¼ inch thick, and drop the slices into a toaster until the sides are golden brown (it may take two or three rounds). Meanwhile, peel avocado and slice into thin rounds. Place avocado on toasted sweet potato slices, sprinkle with salt and lemon pepper seasoning, and serve. Absolutely delicious! Makes 2 servings.