A is for Apple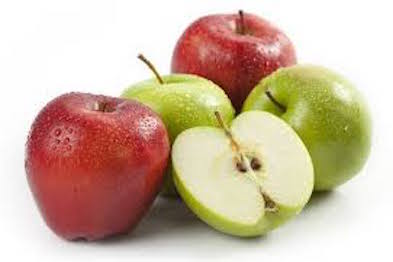 Apples are appealing because of their health benefits and appetizing due to their versatility. This wash-and-go produce is convenient and healthy and full of nutrients and fiber.
Apples are a member of the rose family and there are more than 7000 varieties. With such a wide range there is an apple for every palette. Some apples are moderately sweet and refreshing while others are pleasantly tart. While a raw apple is a great snack it can also be chopped and tossed into a salad. Fresh or dried apples can be sprinkled over cereal or added to holiday stuffings or pancakes. Applesauce is a great alternative for some fat in baking goods. Apples can also provide a sweet alternative for dessert when served with cheese.
Just as there are several uses for apples there are several health benefits. Apples provide a good dose of vitamin C, soluble and insoluble fiber, flavonoids and antioxidants. Apples help digestion and studies have found they contribute to lung health and lower asthma risks. Apples have a phytonutrient which may help prevent Alzheimer's and Parkinson's. The pectin in the apple's skin can even lower LDL cholesterol.
As summer gives way to fall this super food is being harvested across our state and region. Taking time to visit an orchard or mill is a wonderful way to celebrate the fall season. With all the known health benefits of apples take the time to pick a peck and enjoy the sweet treats. This link should help you find a nearby orchard.