Produce Pick of the Month: Pomegranates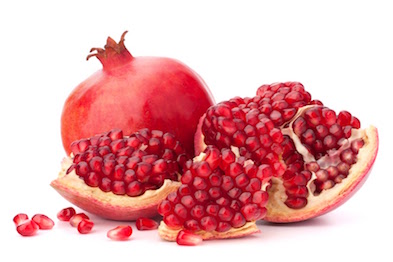 Most people have seen pomegranate juice, but have no idea what to do with the whole fruit. So, if you have never tried a pomegranate now is the season to experiment. Be forewarned! The juice of a pomegranate will stain. It is used as dye for natural fabrics. This should be a clue to its staining power.
The sweet and citrus seeds are crunchy and juicy. They are perfect to mix in yogurt, cereal or cottage cheese. Blend into a smoothie or sprinkle them over a salad and even over fish. The seeds are versatile, but the hardest part of enjoying a pomegranate is harvesting the seeds. To process a pomegranate with the least mess start by cutting off the crown and then cut the fruit into segments. In a large bowl hold a piece of the fruit under water and pull the seeds away from the pulp. The pith will float and the seeds will sink. Strain in a colander and the pomegranate seeds are ready to be enjoyed.
Pomegranates Power Points
Great source of antioxidants
Lowers the "bad" cholesterol and increases the "good" cholesterol
Promotes blood flow
Reduces the incidence of skin and breast cancer
Excellent source of fiber
High in potassium, vitamin B and C