A Partridge in a Pear Tree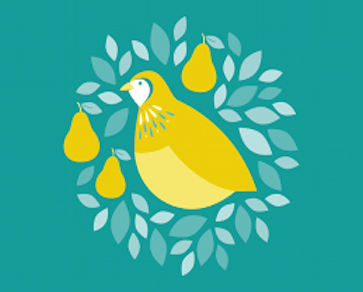 Are you now humming the Twelve Days of Christmas? Every Christmas since the late 1700s people have sung this classic carol and pears were forever linked to the celebration of the holiday. Since pears are sweet and rich in flavor and fragrance it is understandable why a pear tree was given as a gift of love.
Not only are pears delicious with their smooth texture, but they contain no cholesterol, sodium or saturated fat. They are a great source of potassium, vitamin C and fiber when eaten with the skin. Just be sure to wash well before eating or buy organic since pears are among the top 20 fruits with the most pesticide residue.
Having more that 3,000 known varieties of pears grown around the world it is interesting to note there are only subtle differences in flavor and texture. (Anjou, Bartlett and Bosc are commonly grown and sold in the US.) This consistent, sweet flavor is a great addition to many common recipes. Toss chopped pears into chicken or tuna salad. Mix into cottage cheese. Try using a sliced pear on a grilled chicken sandwich or add a pear to your roasted vegetables to sweeten the flavor. Need an elegant dessert? Poach a pear in sweet wine with spices. If you are looking for a new twist, try this unique sandwich that can be used for breakfast, lunch or dinner. The flavors are nutty, crisp, sweet and smooth. All come together to create a delicious and nutritious sandwich.
½ cup light cream cheese
8 slices of cinnamon-raison bread, toasted
2 tablespoons finely chopped walnuts, toasted
2 Bartlett pears, cored and thinly sliced
1 cup of sprouts or your favorite green
Spread 1 tablespoon of the cream cheese evenly over the toasted bread. Sprinkle ½ tablespoon of walnuts evenly over four bread slices. Finish topping each with pear slices, sprouts or greens and another slice of bread. Press together. Cut in half. Enjoy!
This makes four servings at 335 calories, 11 grams of fat, 9 grams of protein, 52 grams of carbs and 6 grams of fiber.