Disclaimer for Testimonials
Getting your body healthy, strong, and conditioned may be one of the hardest things you have ever done. Many different factors determine success. Please be mindful that RESULTS MAY VARY.
Testimonials
On the very first visit, I was given great information to help alleviate my back problems.
Marilyn—Howell

2250 Genoa Business Park Drive,
Suite 130 , Brighton, 48114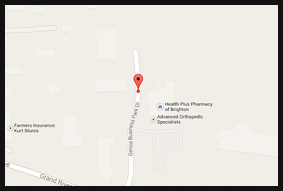 Serving the following cities:
Novi
Northville
Birmingham
Bloomfield Hills
** As of May, 2017. Ratings and reviews on third-party websites may periodically change, please check the third-party websites for up-to-date reviews and ratings. bodywithinfit.com Reviews: 5 out of 5, based on 34 reviews from Nearby Now, Facebook, Google .